Dr. Sydney Katz

'
Title
Doctor (M.D.)
Name
Sydney Katz
Gender
Female
Status
Alive
Occupation
OB/GYN
Affiliation
Hope Zion
Relationships
Hershel (ex-fiancé)
Unnamed ex-girlfriend
Maggie Lin (girlfriend)
Portrayed by
Stacey Farber
First Appearances
Kiss Me Goodbye
Last Appearances
"Leap of Faith"
Dr. Sydney Katz is an obstetrics and gynecology staff member at Hope Zion's.
She is Maggie's mentor, with a strict demeanor.
She breaks up with her fiancee because she is a lesbian and wishes to live a life honest to that. In episode 3x14 she and Dr. Maggie Lin have sex. Both seem to have romantic feelings for each other though at the end of season 3 they are not in a romantic relationship.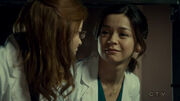 Sydney is absent for most of season 4, although she returns in a guest role in episode 10 when one of her patients is affected by the bombing. But when she arrives at Hope Zion, she is shocked to see that Maggie has collapsed. Later, Sydney is shown watching Maggie from the window when Alex approaches her. Alex says "You really love her, don't you?". This is the first time anyone has noticed or acknowledged Sydney and Maggie's attraction. Maggie is lying in bed, when Sydney walks in. Maggie is clearly happy to see her. Sydney states her worries, but Maggie says that she's fine now. She later makes a joke about Sydney kissing her. Sydney goes to get Maggie a blanket when Maggie grabs Sydney's hand and asks her to stay. Sydney slowly moves back to Maggie's bedside, and Maggie just smiles and quirks an eyebrow.
She returns in season 5 to enter her sister in Maggie's cancer study, but it is revealed that she also came back to be with Maggie. They enter a romantic relationship in S05E10 "Change of Heart". Sydney accepts a job offer in London, telling Maggie not to follow her because Maggie has just been offered her dream job at Hope Zion. Maggie rushes to the airport after work, only to see that Sydney's flight has departed. Sydney did not board the flight after all because she didn't want to leave Maggie behind again. She reads to Maggie the letter she left behind and the two kiss and decide to buy new tickets.
Relationships
Edit
Maggie Lin Edit
See main article: Maggie and Sydney
All appearances
Edit
Sydney was a main character in season 3, while in season 4 she had only a few appearances, therefore only a recurring character in season 4 and 5.
Season 3
Season 4
Season 5
Community content is available under
CC-BY-SA
unless otherwise noted.