"Pilot"

Season 1

Season 1, Episode 1
Episode Information
Premiere date:
June 7, 2012
Viewers:
1.520 (Canadian viewers)
3.12 (U.S. viewers)
Written by:
Malcom MacRury and Morwyn Brebner
Directed by:
David Wellington
Episode Chronology
Previous Episode:
None
Next Episode:
Contact
Related Pages

GALLERY

TRANSCRIPT
"Pilot" is the first episode of first season of Saving Hope.
Summary

[

]
Dr. Alex Reid(Erica Durance) and Dr. Charlie Harris(Michael Shanks) were just driving to their wedding. Suddenly their car crashes. Charlie and Alex help the women in the other car, saving her life. But Charlie went unconcious and was brought to the hospital. He is in a coma from now on. We also get to meet Dr. Joel Goran(Daniel Gillies), Dr. Maggie Lin(Julia Taylor-Ross), Dr. Gavin Murphy (Kristopher Turner),  Dr. Shahir Hamza(Huse Madhavji).
Cast

[

]
Main Cast

[

]
(Credit in order)
Guest Cast

[

]
Karen LeBlanc - Carlene Mills
Dwain Murphy - Shawn Price
Erik Knudsen - Mitchell
Paul Braunstein - John Doe
Cassie Owoc - Angela
Co-Guest Cast

[

]
Zoé De Grand Maison - Tara
Ilya Marvin - Mischa
Alice Poon - Medic
Adriano Sobretodo Jr. - Stuart Yu
Leon Marr - Dr. Lou Stahl
Deklon Roberts - Emerg Nurse
Francoise Balthazar - Injured Woman
Plato Fountidakis - Cabbie
Olivia Barrett - Scrub Nurse
Raven Dauda - ICU Nurse Janet Evans
Grant Roll - Relative Of Patient
Anthony Ulc - Medic
Jonathan Collard - Gurney Man
Esther Maloney - Emerg Doctor
Promo

[

]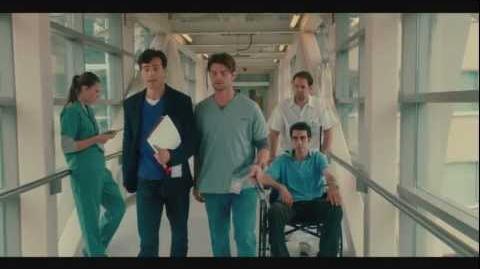 Trivia
[
]
Quotes
[
]